Guest designer Celia Alida Rutte creates DIY summer centerpieces for a segment on Cityline with Tracy Moore. Learn how to accessorize simple fruits with greenery, and turn floral arrangements into conversation pieces.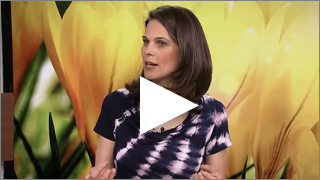 Summer is the time of the year when we entertain outside with our friends. Simple and elegant, quick and easy, centerpieces are a great way to spruce up a dinner table. Mixing fruits with florals works anytime of the year but especially well in summertime centerpieces. There are endless ways to do this. Celia demonstrates two examples on Cityline with Tracey Moore.
In the first slice of this Cityline segment Celia shows viewers how to add greenery to a bowl of fruit and coordinate it with a complimenting platter or dish. The platter starts with a mix of green fruits (pears, apples, grapes and mango nectarines). Celia accessorizes the fruit with Alstroemeria, Green Chrysanthemums and floral greens. This is an inexpensive table arrangement using grocery store bought flowers and fresh fruit.
This next arrangement can be equally inexpensive but requires a little bit more effort to create. Celia turns eight apples into miniature vases by coring out the middle of the apple. She then recommends dropping the apples into a bowl of lemon juice and water for about 30 seconds to prevent the apple core from browning.
Next, she arranges the apples onto a complimenting platter and inserts the stems of her pre-selected greenery and flowers into the apple vases. Florals should be approximately twice the height of the apple, so working on a one to two ratio. Because the florals are cut to very short lengths this arrangement makes great use of wildflowers and greenery from a pasture or your own backyard.
The decorating side of design has become one of Celia's passions; she knows that carefully chosen and well-placed art and accessories can turn a simple room into a beautiful story. Follow Celia on Instagram, Twitter, Facebook, or YouTube, or subscribe to Design Notes to receive a monthly post update by email.
LOVE THE HOME YOU LIVE IN!