The end of summer and into the early part of fall is harvest season, making it one of the best times for gathering with friends and family for a meal. A traditional example of this is Thanksgiving; in Canada we celebrate Thanksgiving at the beginning of October. In late August and early September, the weather can be amazing. It's still a great time of the year to host an outdoor party! Hosting a classy outdoor party doesn't need to be stressful, cost a fortune or be a detriment to the environment.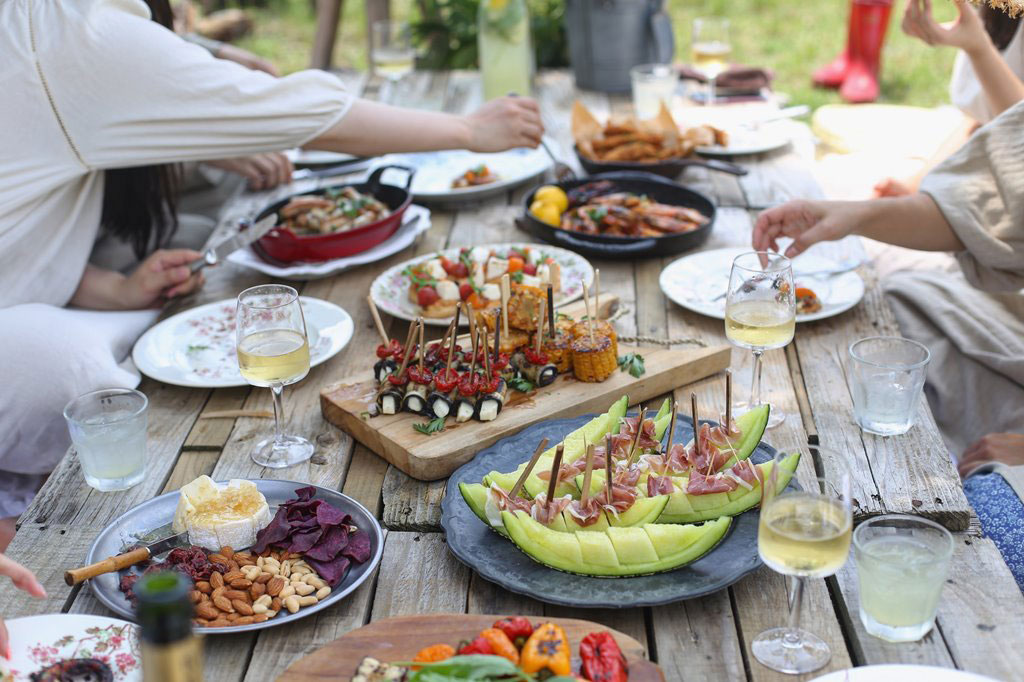 PHOTO CREDIT:   LEE MYUNGSEONG ON UNSPLASH
Here are some quick eco-decorating ideas for those last-minute patio parties:
Dig out the Christmas Lights:
Skip the red and green lights and dig out any mono-coloured strands—if they're not tangled into a huge ball à-la National Lampoon's Christmas Vacation. String them up across entryways and through trees. For a special touch, attach a set of lights around the circumference of a table for a lighted appetizer or refreshment area. There is no need to purchase specialty patio lights sold in the store when you have boxes of string lights collecting dust in the garage. During the warmer weather, for temporary use, indoor lights will work fine outdoors.
PHOTO CREDIT:   KYLE HEAD ON UNSPLASH
Collect an Eclectic Mix of Second Hand Chairs:
If you like to throw parties a few times a year, and you have some storage space like an attic in your garage or tool shed, it might be a worthwhile investment to start a collection of second-hand accent or dining chairs. These can be found in the online classified ads like Kijiji, Craigs List, or Facebook Marketplace. I'm not talking about stackable plastic chairs. I'm talking about stylish wood/antique chairs or even upholstered big old comfy, "curl up and read a book" lounge chairs. You only bring them out when you intend to use them, and if you buy them cheap who cares if they get bumped, scratched, or the sun bleaches the fabric. There are plenty more where they came from.
Bring Warmth to Your Space:
Make your outdoor space feel cozy and guests feel at home by placing blankets and pillows on benches and dining chairs. Even a few big old sweaters will be a great accessory. Don't worry about the mish-mash of patterns or colours; as long as these accessories are clean your guests will appreciate the extra warmth as the temperature cools in the evening. Just be aware, if they snuggle in and get comfortable they may stay into the wee hours of the night.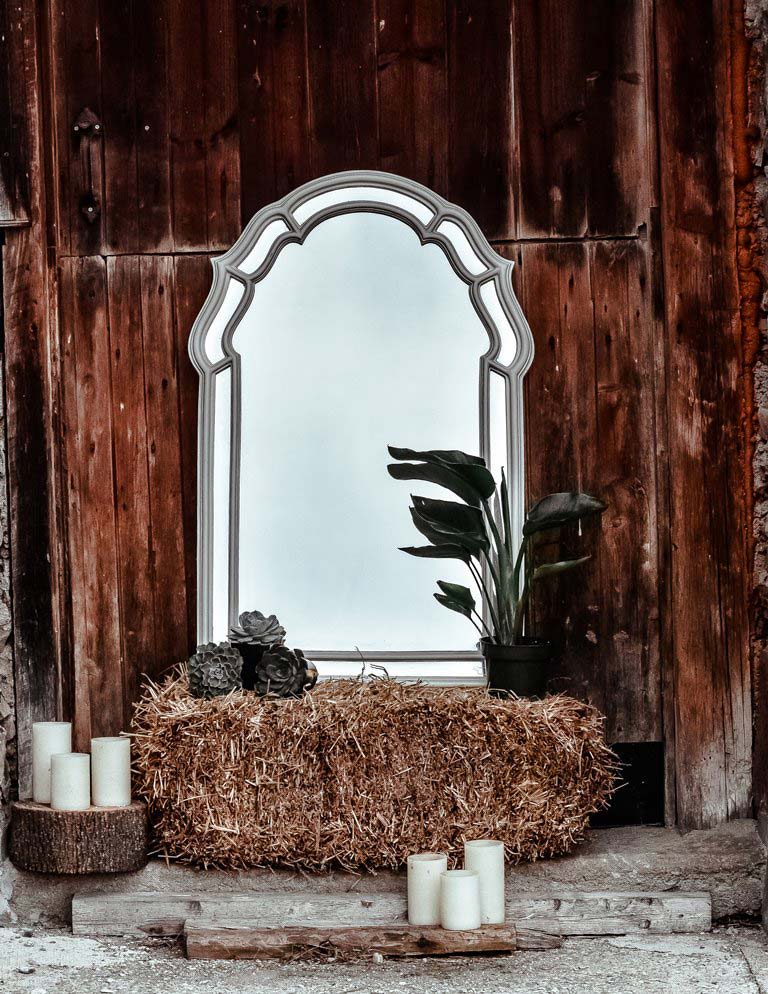 PHOTO CREDIT:   JACALYN BEALES ON UNSPLASH
Create the illusion of space:
If you are dealing with a small space, you can create an illusion of openness by hanging or placing mirrors in your party area. Even one or two well-placed mirrors will reflect light and illuminate the space, making it feel larger. These can be permanently placed mirrors, or temporary using pieces from rooms inside your home. Value Village is a great place to look for a super cheap quick fix; or check out your local consignment store.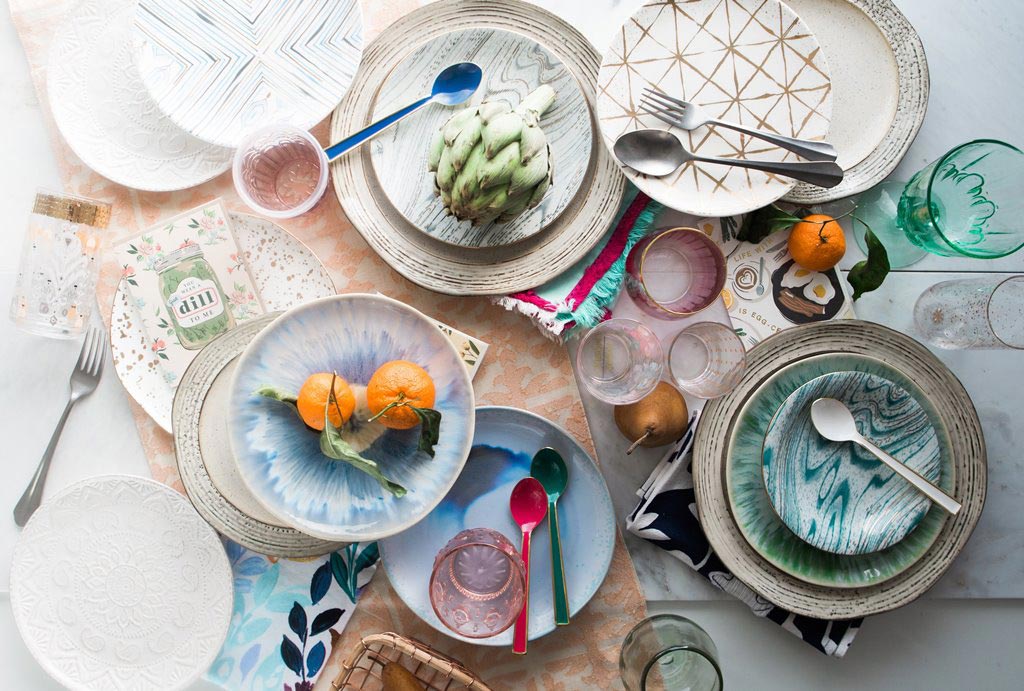 PHOTO CREDIT: BROOKE LARK ON UNSPLASH
Sustainable Party Dishware:
Something I personally have a really hard time with is watching all the trash produced from an outdoor party. It is understandable that we will want to minimize the post party clean up duties, however at what cost? The plastic plates, cutlery, glasses and food waste seldom gets recycled properly. The resulting trash is an environmental nightmare. If you must use throwaway dishes do some advanced research into what your local recycling program collects and make sure you purchase accordingly. Or better yet, purchase compostable products from places like Amazon or Green Munch. Label your garbage area clearly for your guests so they understand not only where to put their garbage, but that you care where they put their garbage.
An alternate party dishware solution, if you are open to doing the dishes, is to purchase a mish-mash of second hand dishes and cutlery that compliments your eclectic collection of chairs, blankets and pillows. These can be stored and reused multiple times over, and there is no worry about damage. Garage sales and your local Value Village, are both great resources.
Rent Your Plants:
Yes, this is a real thing! If your event needs to be deluxe, consider renting plants. Many local nurseries or event rental companies carry false or real, potted plants and trees for rental. Buying cut flowers and greenery that you'll end up throwing out is unnecessary and can be as expensive as renting. Just type TREE AND PLANT RENTALS along with the name of your city, in your preferred search engine. For the city of Toronto you can check out places like Plant World, Toronto Event Rentals, or Thornhill Florist.
Be an example and make sustainable party choices. As people become increasingly conscious of the environment they will not only appreciate but learn from your choices, causing a ripple effect. Friends will appreciate that their fun times won't contribute to the garbage dump or harm the creatures of our oceans.
At Design for Conscious Living® we care about the environment and fully support our customers efforts to make sustainable choices in their design and decorating projects. Reach out to us for more information.
LOVE THE HOME YOU LIVE IN!