In the video below, Celia takes us on a journey through the summer of their very first vegetable garden at The Holland Housch. Designing the layout, building the fence, planting the seeds, and tending to the garden—all during the early months of Covid 19—was no small feat. Despite having limited time, resources, and vegetable garden training their hard work and dedication has paid off with a beautiful garden and abundant harvest. Watch how the garden was prepared, and tour through some of the vegetables that were planted in this fun, informative, and inspirational video.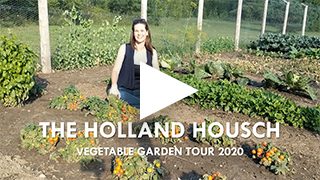 If you are dreaming of having a vegetable garden or growing your own food, consider getting design assistance. Design for Conscious Living® can help you with the design, layout, and proper placement of your garden to ensure you have the foundation in place to grow your edibles successfully. Even if you live in the city, where urban gardening is becoming increasingly popular, we can help you make your plants and the plot where you grow them look aesthetically pleasing.
LOVE THE HOME YOU LIVE IN!