Every time I visit the Interior Design Show I am most eager to see the product and trends that bring me back to nature. I love things that connect me to the natural world visually, whether it be an organic shape, a reference to plant material, or a look that replicates a naturally occurring organic state. Yes I look for the organic, sustainable, and environmentally friendly; but even more so I look for the "design style of the natural world". A term for this is Biophilic Design—which is essentially the design of spaces that improve our wellbeing and take inspiration from the natural world.
This is part three [Part 1, Part 2] of my tour through IDS 2020 showcasing my personal favorites with a focus on the area of Biophilic Design.
"This year's IDS concept home [was] a multisensory take on the future of living, and an exploration of the role that our homes can play in improving our overall wellbeing. [The home was an exploration of] how materials, textures, sounds, scents, and light affect the five senses, mind and body, impacting the way we live and interact within the private sanctuary of our home." Quoted from the IDS Design Your Future program guide.
The RESET home was a collaborated effort between VFA Architecture and Design, Hummingbird Hill Homes and Construction, and Victoria Taylor Landscape Architecture.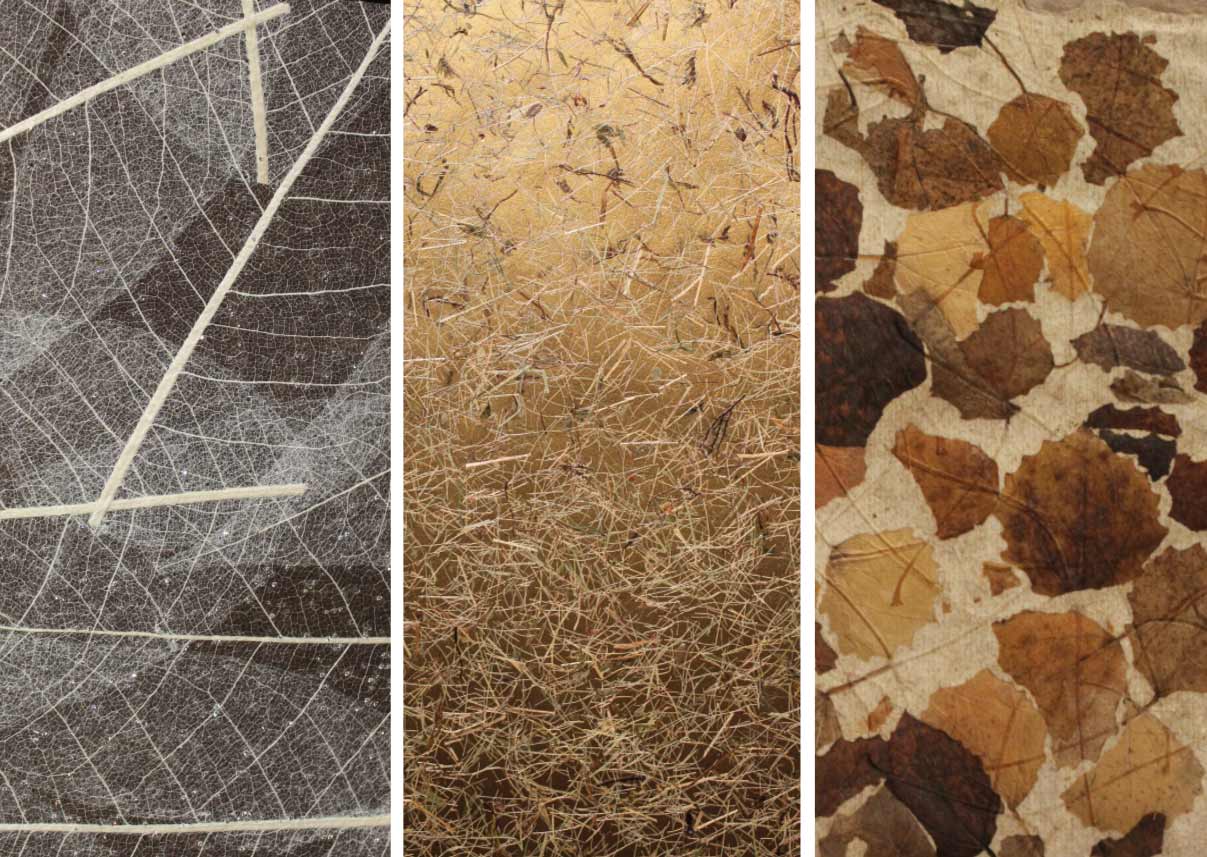 Organoid is a company that designs and manufactures a wallpaper like material that can be used in a variety of applications. The product is made from raw natural materials and thanks to a gentle production process, the natural features of scent, color and feel are preserved. Organoid surfaces are practically emissions-free and allergy tested. They are free from ecological or other health concerns in addition to being climate friendly and manufactured in a CO2-neutral process in Tyrol, Austria.
Hannan Fayad is the glass artist who designed and created these unique sculptural forms. A beautiful composition of organic and geometric shapes with colours ranging from soft pastels to earth tones.
Recently experiencing some neck and back stress because of the long hours I sit at my desk, I was intrigued by this standing chair designed by Monkey Pods Inc. It is surprisingly comfortable and really helps to keep your back upright. To accommodate this chair you would need a desk with an adjustable height, because you are sitting higher than a conventional 30" desk; but it would make a great barstool. Hmmm… maybe I'll drop a hint to the owner of Monkey Pods to design a complimenting adjustable desk.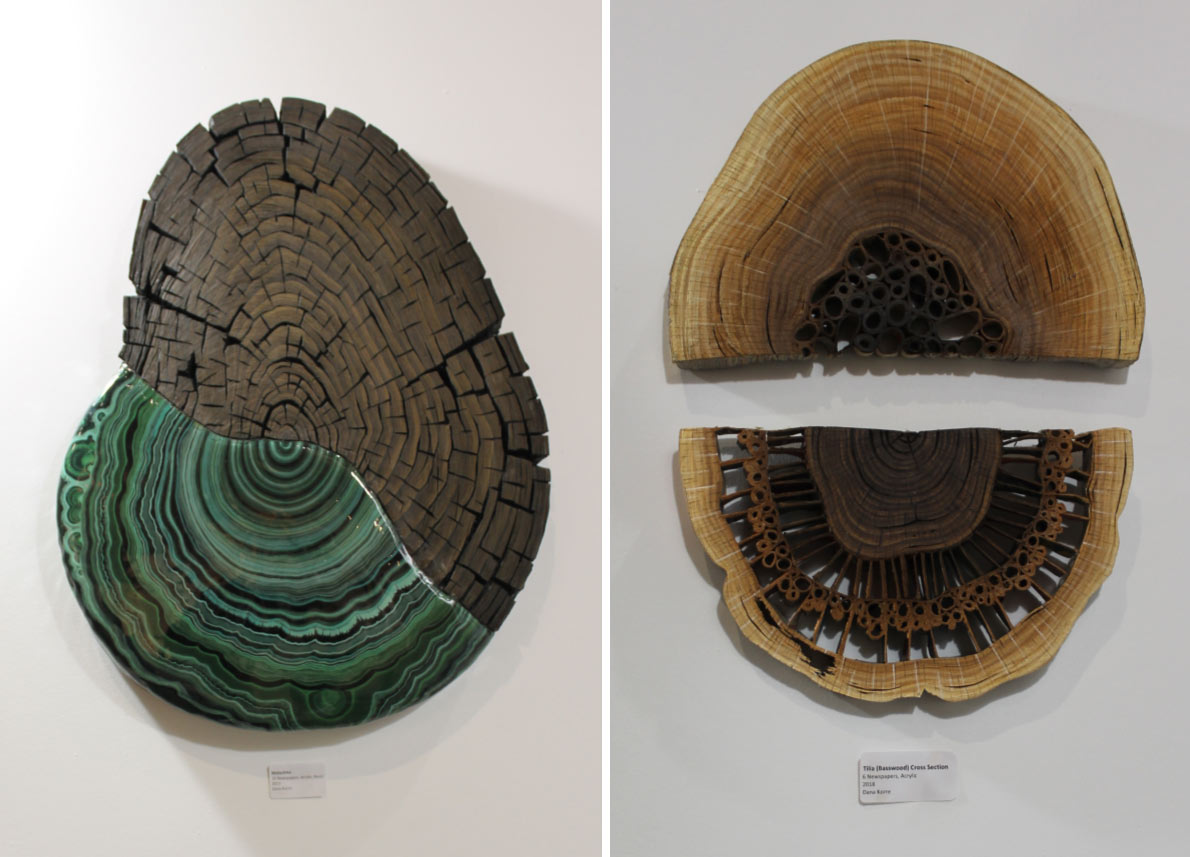 I really love these organic art forms by artist Dana Korre. They are made out of newspaper!! Through a process of binding, carving and painting Dana brings the paper material back to the wooden imitations. She then applies a resin to create the polished mineral appearance.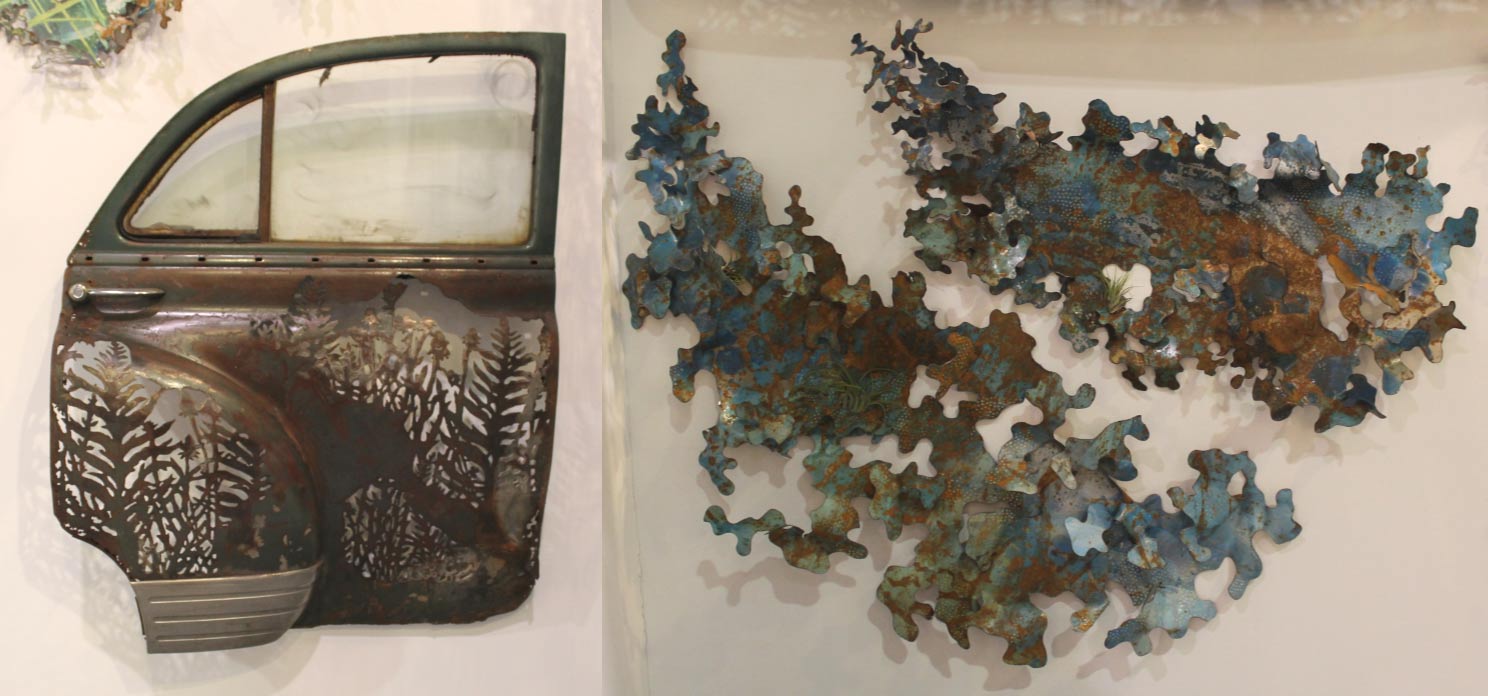 Although I'm not a "car" person I am attracted to the stunning metal work of this artist, who goes by his first name Owen. The pieces remind me of the natural process of decay, death and subsequently renewal. His work combines industrially produced goods with intricately hand carved patterns. I love the way he has reimagined these discarded artifacts into beacons for transformation.
Design for Conscious Living® is passionate about responsible design and creating spaces that reflect nature. If you are interested in Biophilic Design and/or living in a home that connects to the natural world we would love to work together with you on your project.
LOVE THE HOME YOU LIVE IN!