How do you build a simple, quick, deer and animal proof fence around your vegetable garden? That is the very question we asked ourselves about a month ago. As you may already know from our previous post The Holland Housch | Planning for a New Vegetable Garden, we decided to fast-track the installation of our garden when the Covid-19 pandemic started. We were looking for something temporary that was aesthetically pleasing, effective at keeping animals out, and that we could expand and improve easily. Our future garden fence design will be more sophisticated; when time and money are abundant.
For our vegetable garden fence design, we used 8 ft high, pointed cedar posts, chicken wire, and wood strapping (a.k.a. furring strip boards). We had all these items at our disposal, which was essential during the pandemic. Interested in seeing how we constructed our groovy do-it-yourself garden fence. Watch this short video of Justin and I hard at work making magic happen on a shoestring.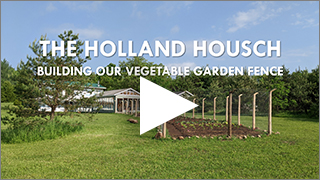 If you are dreaming of having a vegetable garden or growing your own food, consider getting design assistance. Design for Conscious Living® can help you with the design, layout, and proper placement of your garden to ensure you have the foundation in place to grow your edibles successfully. Even if you live in the city, where urban gardening is becoming increasingly popular, we can help you make your plants and the plot where you grow them look aesthetically pleasing.
LOVE THE HOME YOU LIVE IN!