The effects of global warming and excessive buying can no longer be ignored but we can still decorate our home for the holidays without compromising the spirit of the season. By paring down, reusing existing decorations, and incorporating lots of natural and reusable materials you can, without question, still create gorgeous, timeless, and breathtaking Christmas scenery.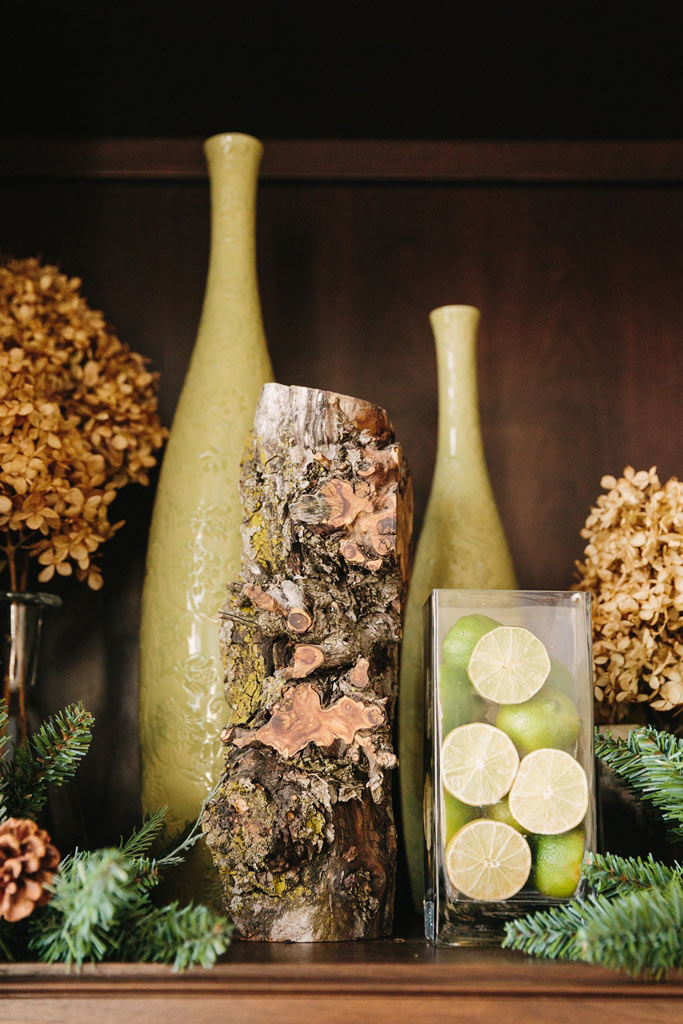 Toronto based interior design expert Celia Alida Rutte shows us 5 beautiful ways to decorate with tree stumps for Christmas. In this first example a gorgeous piece of raw Applewood is accented with lime green ceramic vases, dried hydrangea flowers, spruce branches, pine cones and a clear glass rectangular vase filled with fresh cut limes.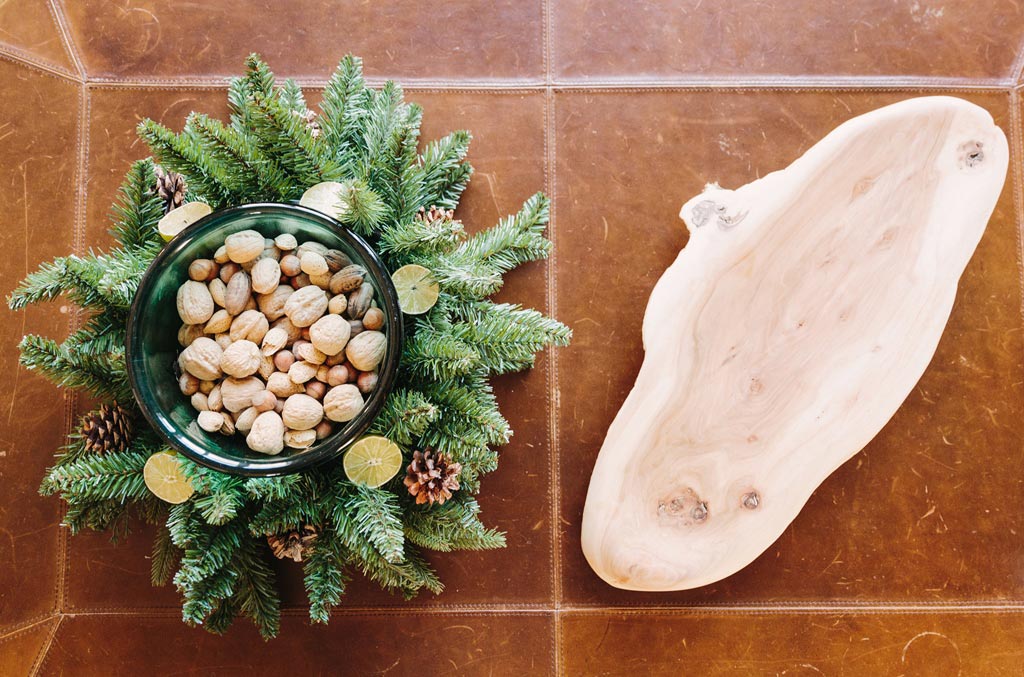 Dress up a glass bowl for the coffee table with spruce branches, cut limes and pine cones; and pair it with a striking raw Applewood platter. Placed atop this custom leather coffee table the contrast is certainly eye catching.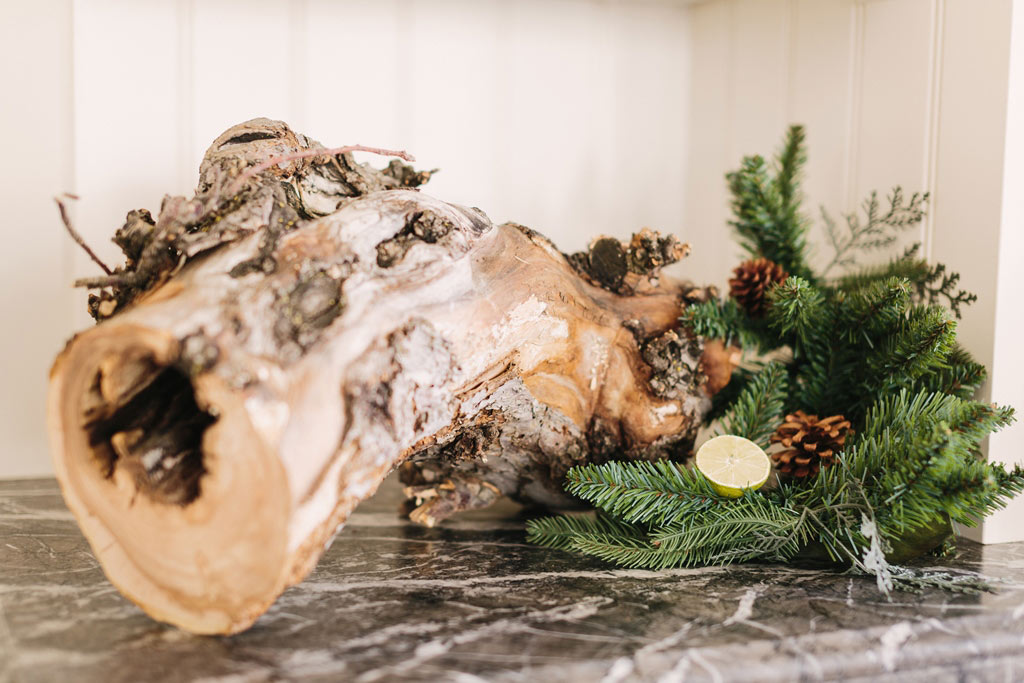 Garnish interesting log shapes with greenery and use them to decorate countertops, coffee tables, side tables, bookshelves, and window ledges.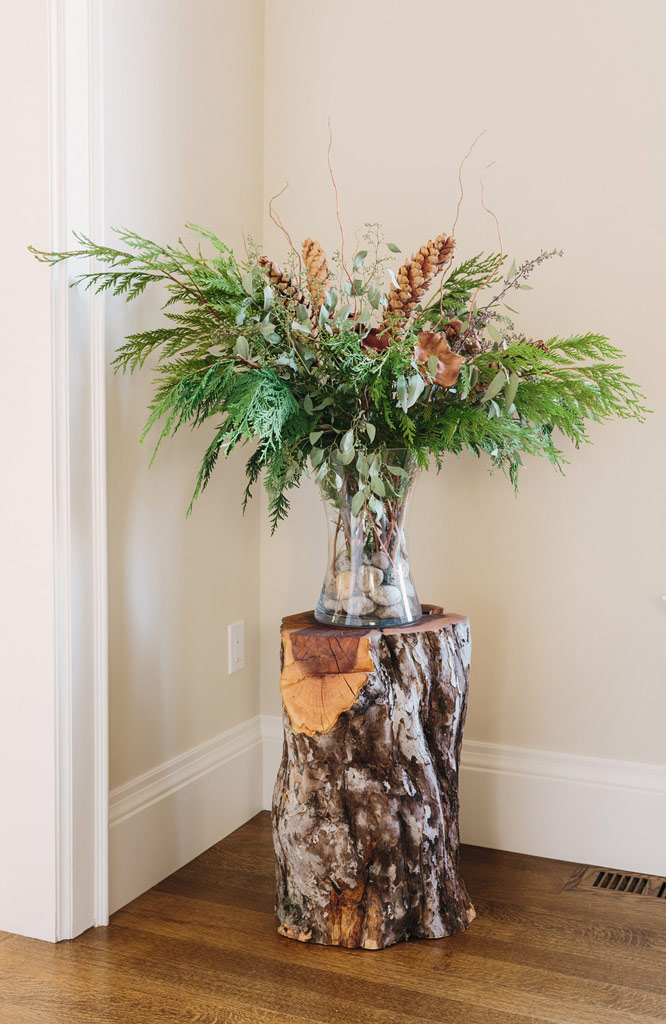 This gorgeous raw Applewood stump acts as a table for a vase of fresh Christmas florals, and fills an otherwise empty and boring corner. Celia created this spirited arrangement from cedar branches, seeded eucalyptus, dried plant pods, and pine cones glued to a stick.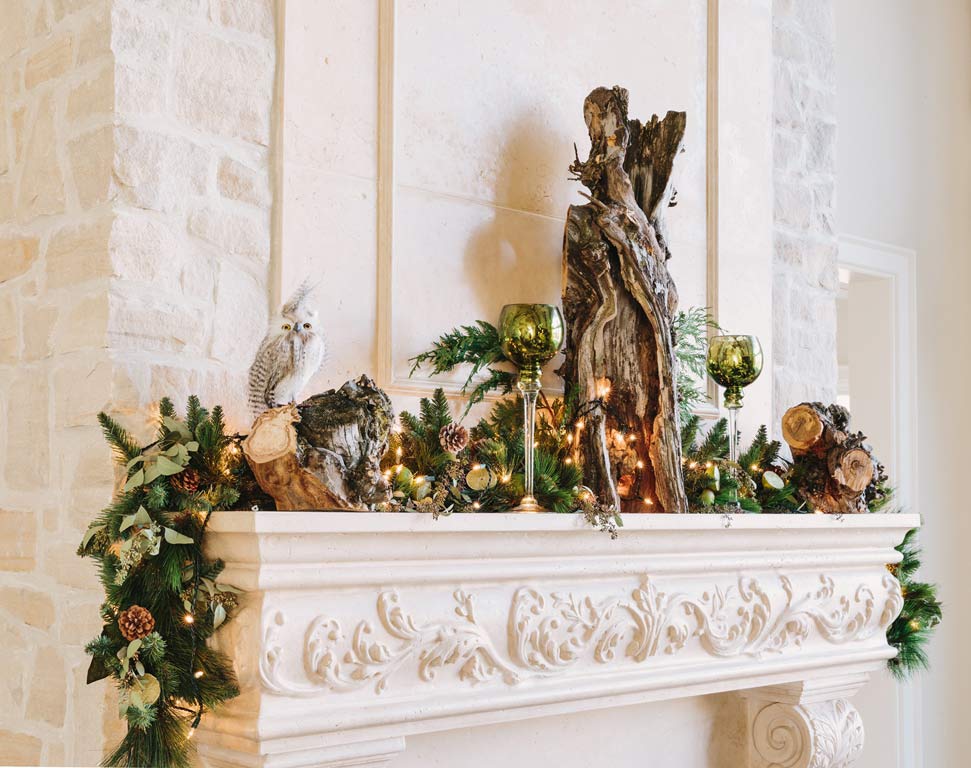 Last but not least, for a simple and deliciously natural mantel design bring large interesting chunks of wood together on your mantel and intertwine them with spruce and pine garlands, eucalyptus branches, and white string lights. Mount pine cones and fresh cut limes onto small wooden sticks and insert them into the arrangement. And for that little bit of Christmas bling add some glass accessories to the mantel to catch and reflect the soft twinkle of the Christmas lights.
Interior Designer Celia Alida Rutte offers her clients full service interior decorating and design and this includes residential seasonal decorating services. Whether it's a pair of outdoor planters or preparation for an elaborate Christmas party, Design for Conscious Living can assist you with the purchase and installation of your Christmas décor.
LOVE THE HOME YOU LIVE IN!