Celia Alida Rutte of Design for Conscious Living, is now one of the select group of professionals nationwide to earn the Certified Aging-in-Place Specialist (CAPS) designation, identifying her as a designer with the skills and knowledge necessary to remodel or modify a home to meet the unique needs of the older population, disabled owners or their visitors.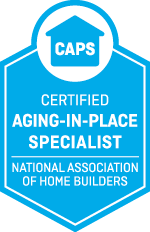 The National Association of Home Builders, in partnership with the AARP and NAHB Research Center, created the CAPS program, which includes training and education on the technical, business management and customer service skills essential to compete in the fastest-growing segment of the residential remodeling industry — home modifications for aging-in-place.
Having always maintained a clear focus on designing spaces for homeowners that support the unique needs and design preferences of the user, Design for Conscious Living passionately broadens their expertise to understand the unique needs of the older population. "We look forward to helping homeowners make the modifications they need to enable them to live in their homes safely, independently and comfortably", says Celia.
Top Five Reasons to Hire a Certified Aging-in-Place Specialist (CAPS)
You will be working with a professional who values the importance of ongoing education and training and is willing to invest the time and money necessary to stay current on aging-in-place issues.
A CAPS works closely with remodelers and health professionals, such as occupational therapists, who understand the challenges of aging and can provide safe, attractive and accessible modifications to your home.
Your CAPS is a credible professional with a helpful network of other aging-in-place experts such as therapists, Veterans Administration officials and product suppliers who can serve as additional resources.
Should you ever choose to sell your modified home, your CAPS' influence can make your home more marketable.
Modifying your home with a CAPS can potentially be less expensive than alternative arrangements in the future.
Are you interested in aging in your home comfortably, safely and securely, through your maturing years? Do you have a disability that makes living at home stressful or impossible? Do you have aging family members, and wish to make your home more visitable? Let Design for Conscious Living assist you in the design of your new or existing home, to make it an aesthetically enriching and barrier-free environment.
For more information: CAPS program and NAHB.
LOVE THE HOME YOU LIVE IN!